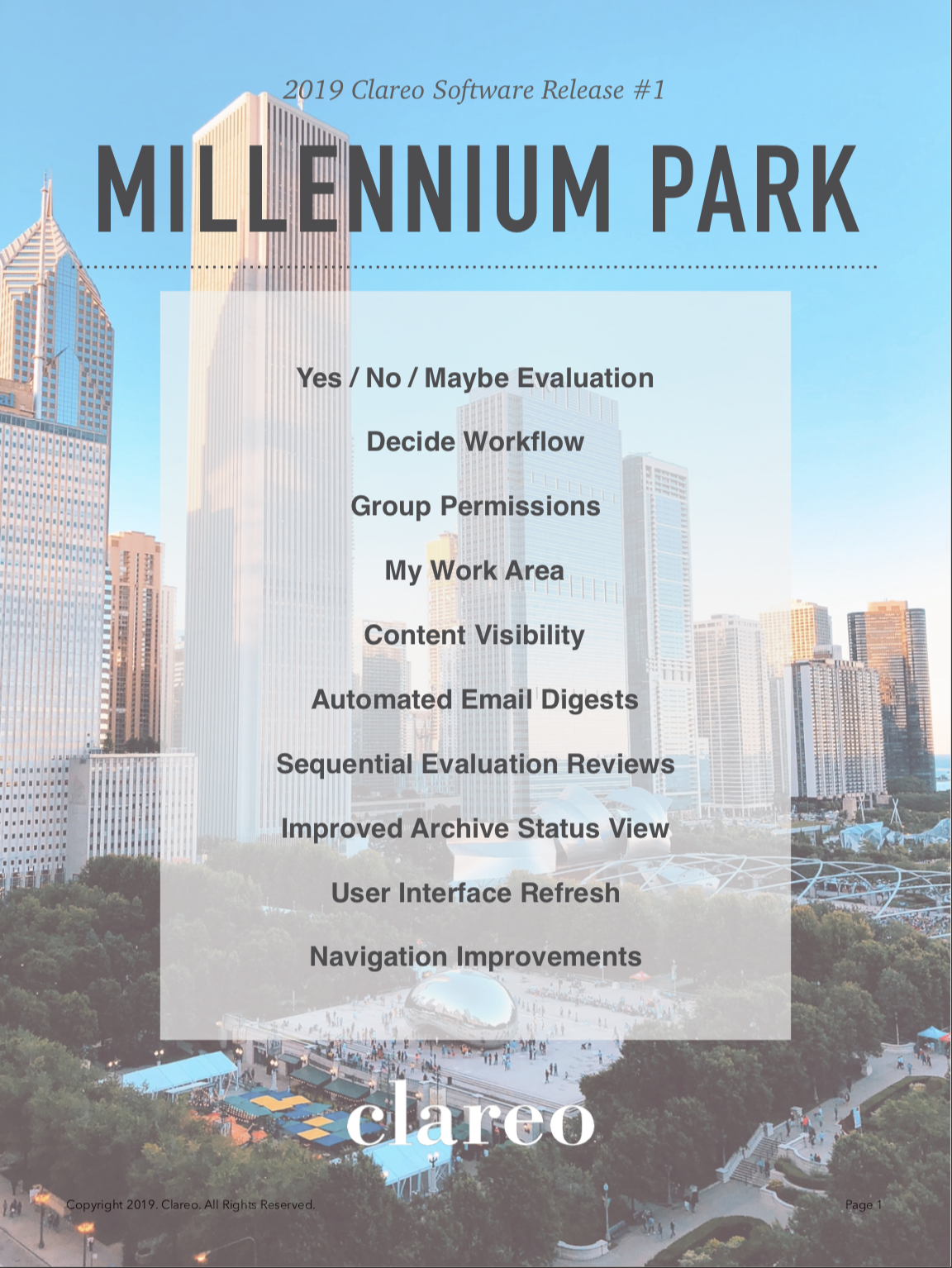 YES/NO/MAYBE EVALUATIONS
We have introduced a new evaluation type called Yes/No/Maybe. Yes/No/Maybe will focus on making it easier to evaluate a large number of ideas quickly. The current criteria- based evaluation works well up to ~20 ideas. However, with more than 20 ideas it can take more time to complete the evaluation process. The process for administering a criteria- based evaluation will work the same as it does now, but a Yes/No/Maybe evaluation will be an entirely new experience. Yes/No/Maybe is a quick, streamlined process to evaluate a higher volume of ideas (over 20) which may also be in the earlier stages of conception. Ideas with a "Yes" or "Maybe" can then progress to a criteria-based evaluation . We have also cleaned up consistency between evaluation types and making the necessary changes to evaluation reports to display Yes/No/Maybe results. Here is a brief video showing you how it works.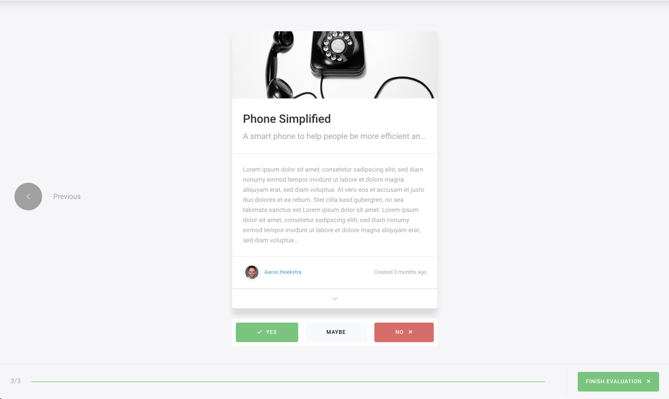 DECIDE Workflow
You've completed an evaluation...now what? We have helped teams evaluate their ideas/projects and visualize what they should work on. But what would be the next step? We are introducing Decide. Decide is a series of actions that you can take after completing an evaluation. You'll be able to see your evaluated ideas/projects and select from actions like "Request more information", "Move to portfolio", "Promote to project", or "Reject and archive". With the job of getting innovation done, we want to continue to help clients build momentum and complete batch actions in an automated way. Here is a brief video showing you how it works.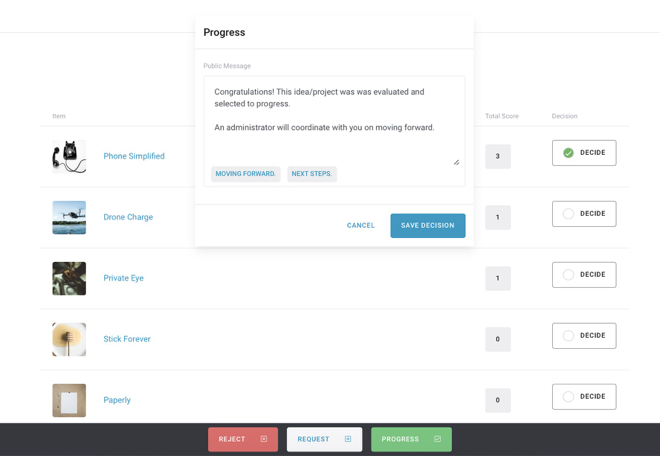 Group Permissions
We have expanded Group Permissions. We know that managing user access to content is a 1-to-1 task and can be time consuming. We have added a new "Groups" tab to the admin area to help solve this problem. This will allow you to create and manage groups of users all at once. Then, from any piece of content (idea, project, map, portfolio, etc.), you'll be able to add/remove an entire group of users in addition to single users. This will make managing large teams easier for everyone.
My Work Area
We've made it easier for you to find the things you have created or belong to throughout the tool. In the past, you would have to go into each tool, or the admin area, and search for the content you belong to - which made it very difficult to know what elements were yours. Now we give you a persistent "My Work" button in the left sidebar that makes it easy to bring up all the items that you created, belong to, or require action.
Content Visibility
"Who can see this?" is a common question. We are eliminating the confusion and concern from users about who can see the content. We are providing more specific settings to define who is able to see a piece of content, ensure admins can see all of the content, and re-assure users about who will have visibility to the ideas and projects they are working on. "Visibility" is a new setting allowing users to select from Public, Workspace Only, or Team Only. We also display the current visibility setting to the project team in a few places so they always know who can see their work.
Automated Email Digests
We have created automated daily and weekly email digests so users can now get regular updates on content they care about. Digests will summarize a users notification/activity feed and bring it to their email inbox. You'll be able to manage your digest email preferences from "Account" (e.g. turn off notifications).
Sequential reviews
It is now easier to review the evaluation scores for each project. You no longer need to click into each project to view its scores. When reviewing scores, simply click the arrow on the right to see the next score review.
Archived Statuses View
We have standardized the way archiving works. It will move to the "Status" area for each piece of content (idea, project, portfolio, etc.) where you currently control Draft and Publish. By doing this, archived content will no longer mix in with content that has a Draft or Published status. There is also a new view, where you can find archived items easily and add them back to your active portfolio.
User Interface Refresh
We've been working closely with our visual design team to continue polishing our new style across the entire platform. This has lead to many small styling changes throughout the platform to increase visual appeal and experience. You will notice some of the buttons may look and feel different. Additionally, you'll see improved iconography throughout all dashboards and tools.
Navigation Improvements
It's pretty annoying when you don't know where to go to get something done. By popular demand, we now maintain a more consistent navigation to the tools where we include a collapsed tool sidebar navigation on Communications pages and also maintain a custom navigation in the header when using a tool.