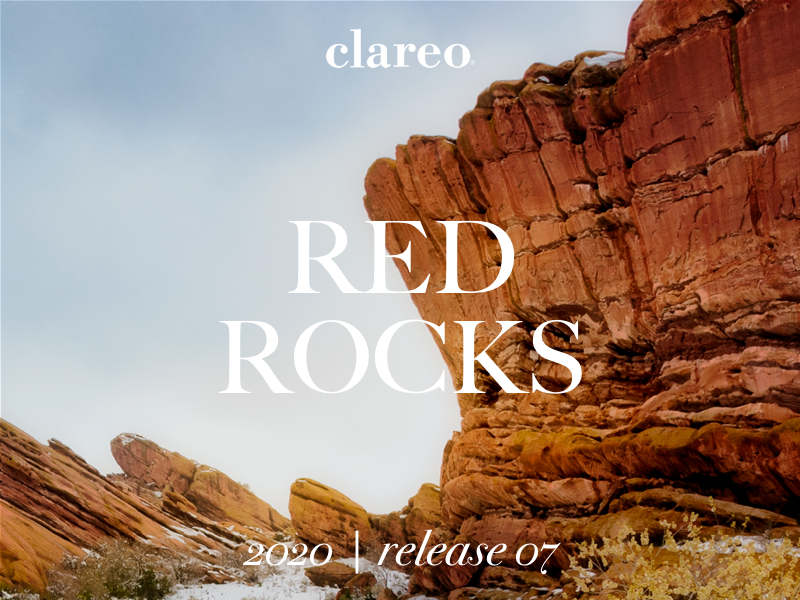 Features & Updates
EXPANDED SEARCH CAPABILITY
We're excited to introduce expanded search capability in this release. Previously, users could only search within specific content types; for example, you could search through a collection of ideas, a list of pages, etc., but not broadly throughout the tool. Users will now be able to search across all published content they have visibility to by accessing the content search feature on the top navigation.

CLEARER NAVIGATION
Users told us that having both a top navigation menu and a left-hand navigation menu is confusing. Having navigation in both places was redundant, and often companies would create custom header links that directly conflicted with the sidebar navigation. To make it easier to navigate to saved destinations and clear up confusion, we replaced the Navigation bar in the top-right header with a Search box alongside a set of "Quick Links." We've also added a "Quick Links" block on the dashboard.
SAVE FILTERED SELECTIONS
When asked to pull reports, admins have to apply filters before viewing or exporting results. Up until now, they have not been able to save those filters and would just need to remember them each time. Users can now save their filter settings on all screens with a filter icon - content lists, publicly visible content feeds, campaign/portfolio profiles, etc. Users will be able to select filters, save those filters to a filter group, and apply them to searches in one click.
For future searches, there will be a "Saved Filters" option in the filter menu dropdown, and users can add or remove saved filters as needed.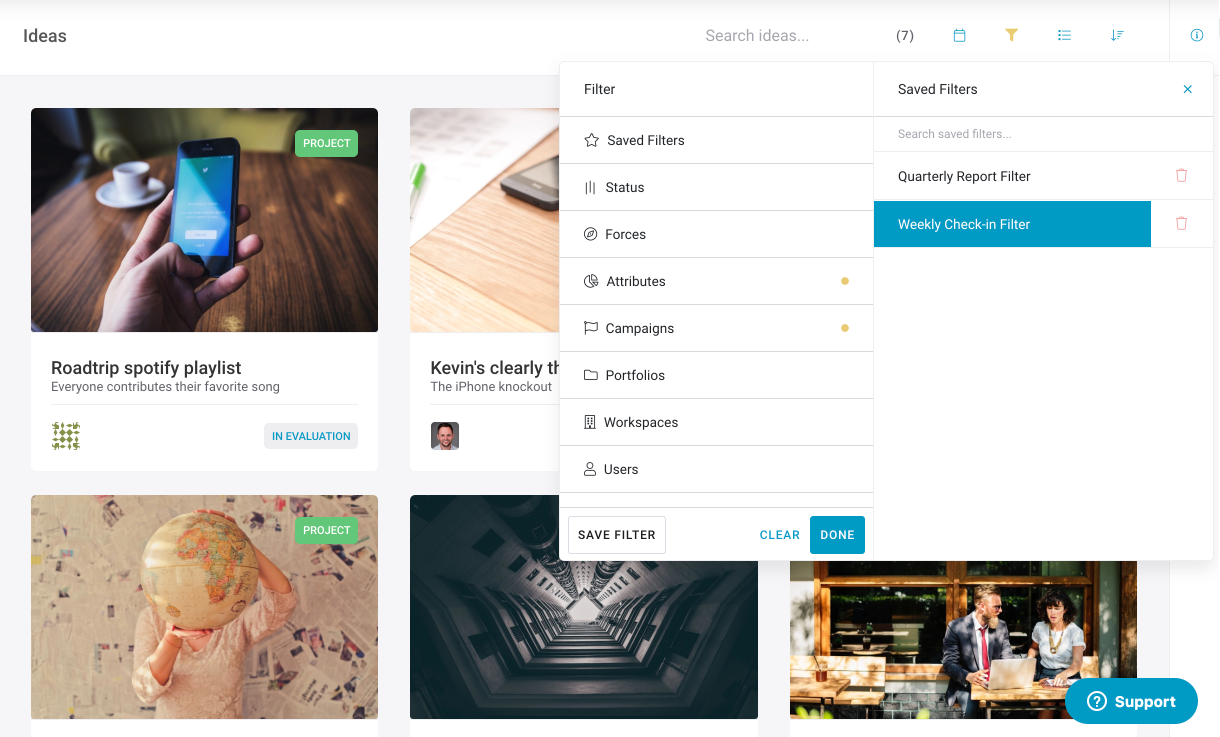 EMAIL NOTIFICATIONS FOR INACTIVE IDEAS
The health and progress of ideas is critical to any innovation program. Generating good ideas is important, but those ideas need to keep moving in order to be impactful. Previously, users might enter an idea but forget to interact with it or move it through the workflow for weeks at a time. To combat this, we've added an email notification feature that identifies inactive ideas and notifies the user and admins to check in. Admins and idea teams will receive email notifications after 30, 60, or 90 days of inactivity.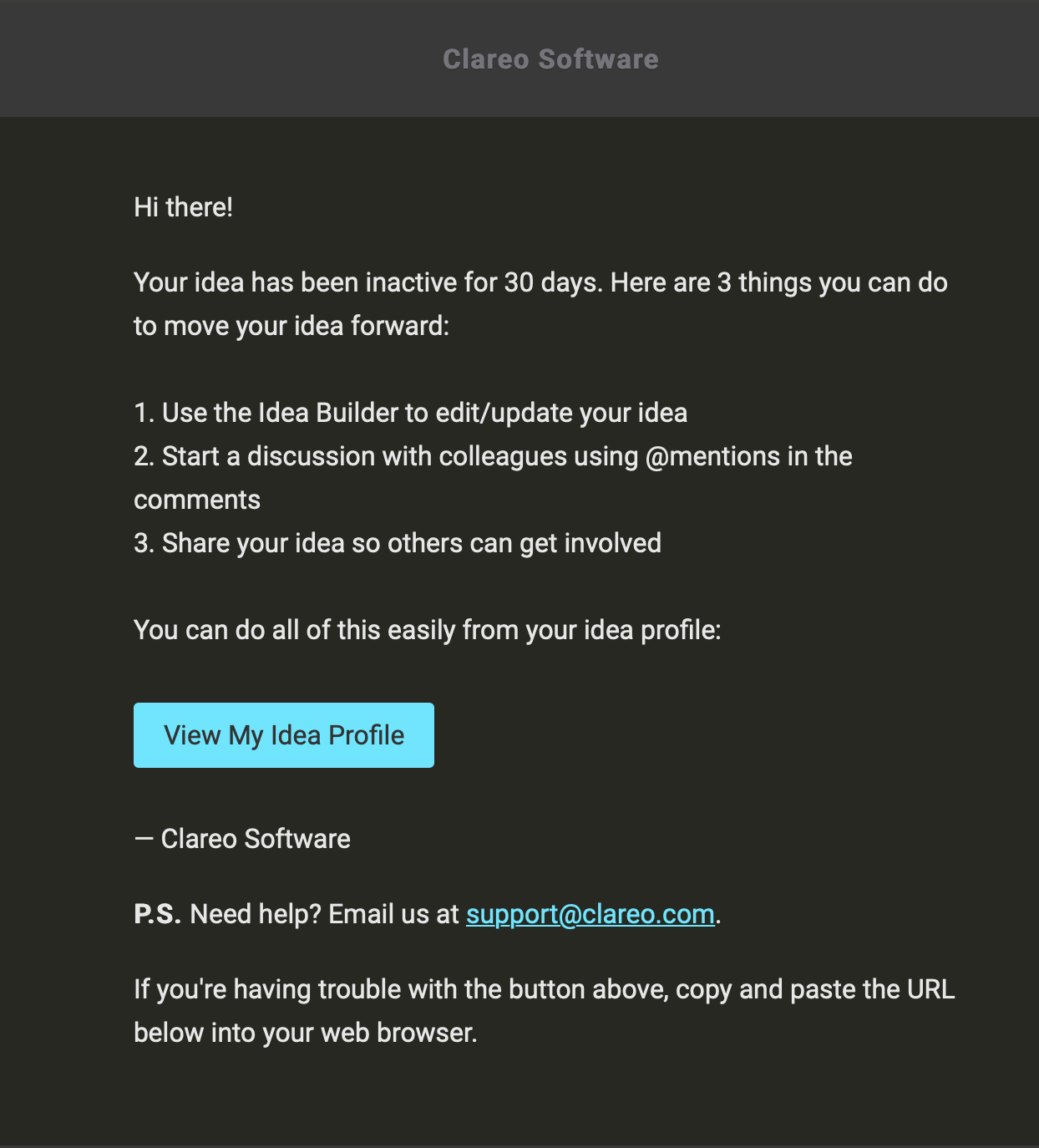 FORCE IMPROVEMENTS FOR EXPLORE
Many users have struggled to navigate the Explore dashboard. Because it wasn't listed directly on the dashboard, users couldn't identify the Categories that different Forces belonged to. With this release, as a user scrolls through Explore, they will now see clear labels indicating what Category each Force belongs to. They'll be able to view a specific Force Bucket by selecting it from a drop-down menu. Users can now also navigate directly to a Force and share it via email or permalink, making it easier to collaborate with colleagues.
EXTERNAL API ACCESS
Companies often use reporting dashboard tools, and up until now, we did not allow external API access. Users had to pull information manually through .csv exports and then import that data into their other tools. With this release we've added external API access, giving users the ability to pull information in real-time for their external reporting tools and streamlining the reporting process.
SELECT ALL EXISTING PORTFOLIOS
We've added the ability to "select all" when adding ideas to existing Portfolios. Previously, this was only possible when creating a new idea. If users wanted to add a group of ideas to an existing Portfolio, they'd have to individually select each idea to add it, making the task time-consuming and frustrating. This feature enhancement will make the process much easier and simpler moving forward.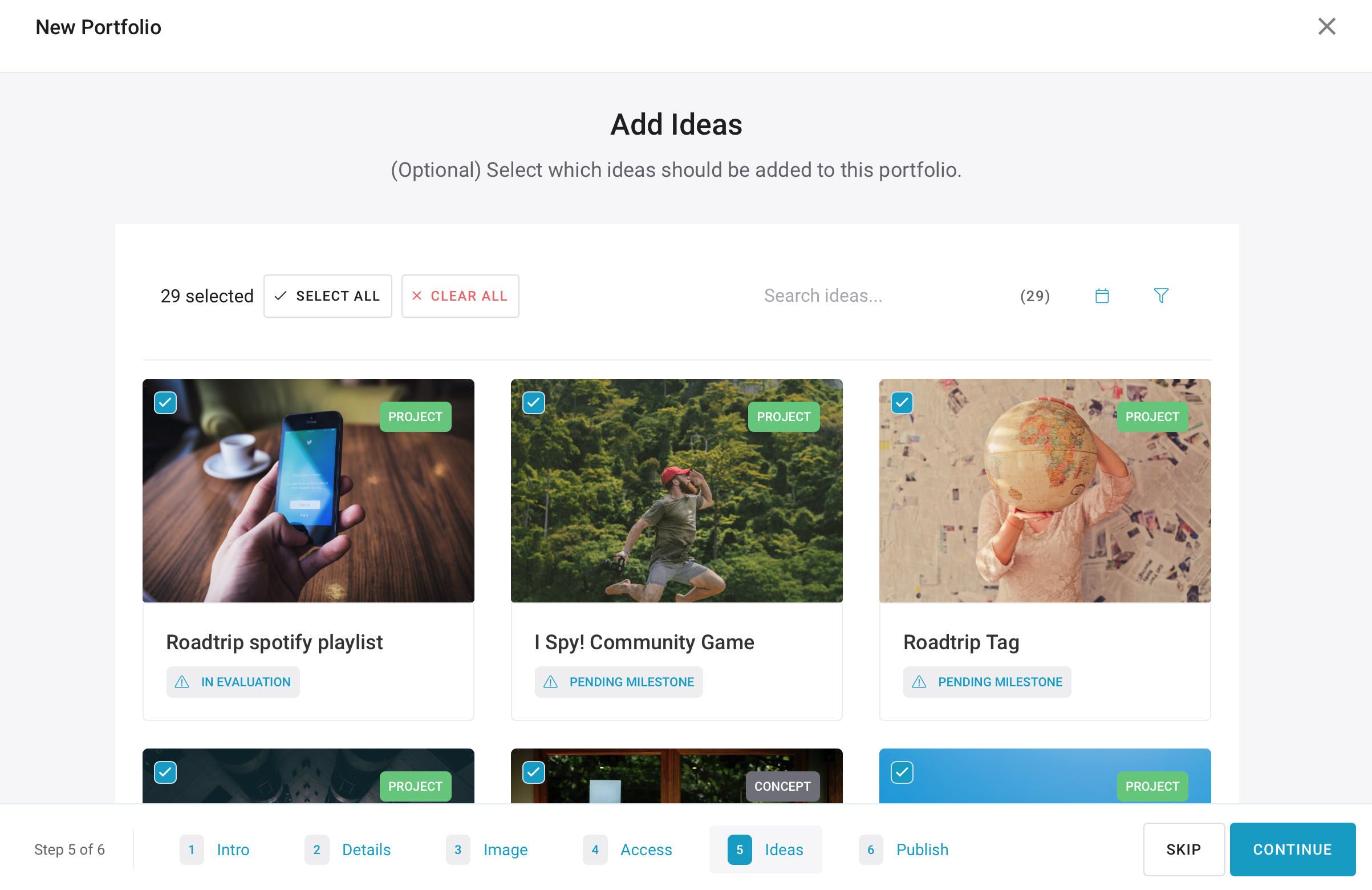 IDEA STATUS NOTIFICATION UPDATES
Admins told us they were unclear about who would be notified when an idea status was updated. To address this, we will now display messages to the Review and Manage modals in Campaigns and Portfolios to clearly indicate who will receive notifications that the idea status has changed.