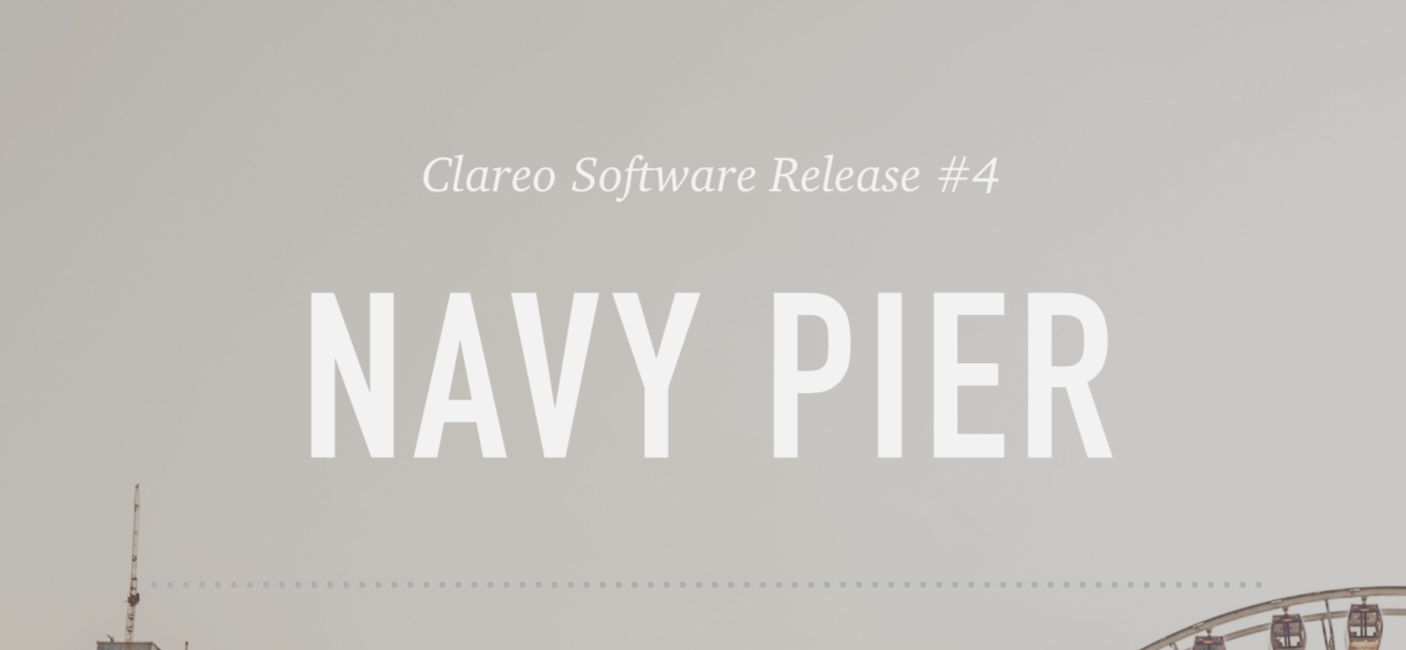 FEATURES & UPDATES
Tool Navigation and Dashboards
User engagement and user experience is an important aspect to the success of any software platform. We simplified the layout of our tool navigation to make it clearer for users and have added new dashboard screens. Users were experiencing a disconnect between the title of the navigation button and the content being displaying. This led to users not engaging with the tool navigation. Therefore, we've made the core navigation more action based to increase user engagement, reduce confusion, and improve the user experience.
New Campaigns, Portfolios, and Evaluations dashboards

Ideas instead of Campaigns on the Ideas dashboard

Renamed the Perspectives dashboard to Explore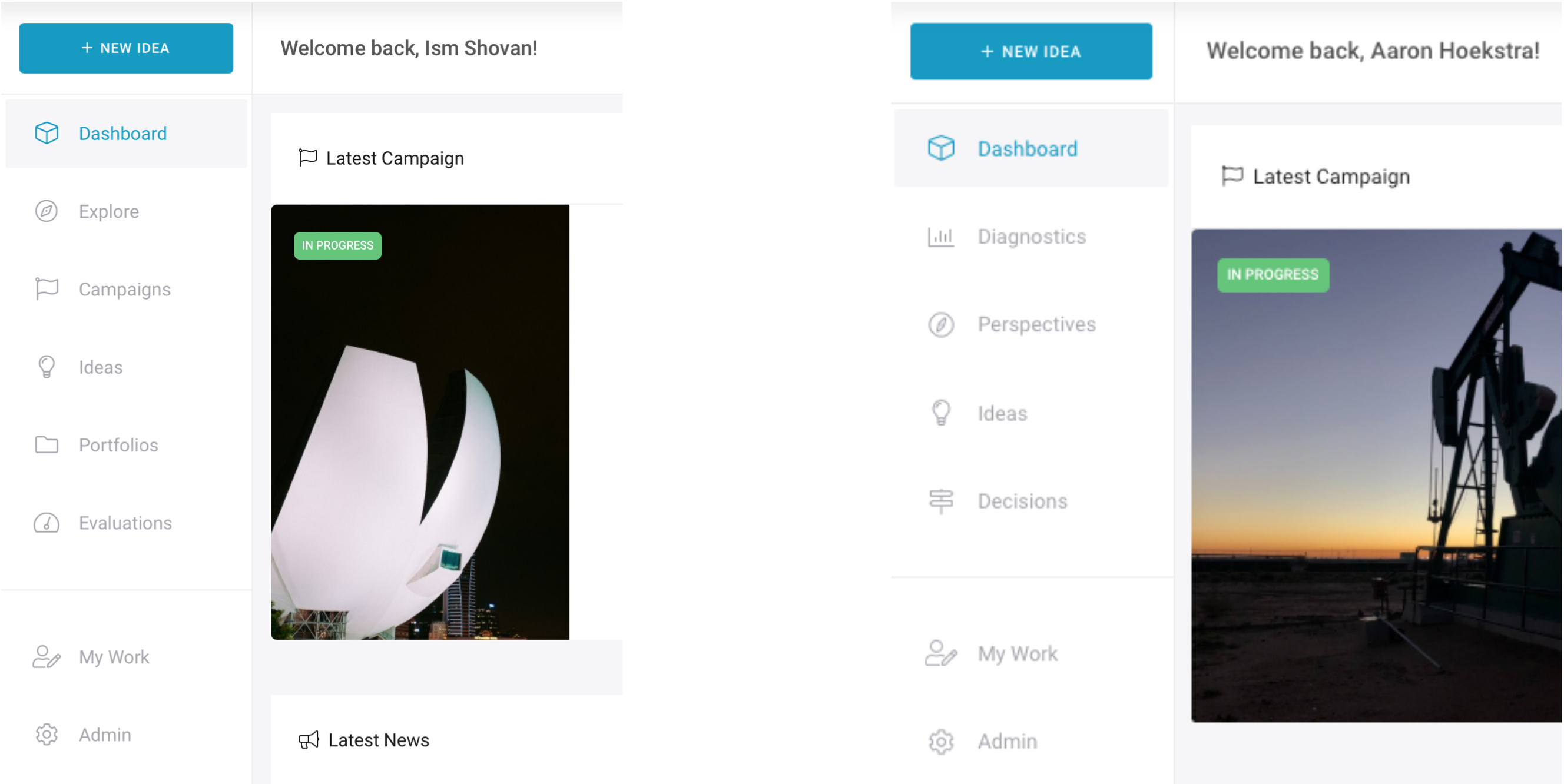 Workflows
How does a large organization capture ideas, move them through a process, and turn them into valuable projects? Workflows aim to define and streamline this process. We are utilizing both the Ideas and Decisions tools to bridge the gap between an"Idea" and a "Project" by adding new steps in the process to help companies move ideas forward. We will also provide education throughout the new process to help both users and admins move through the process more seamlessly.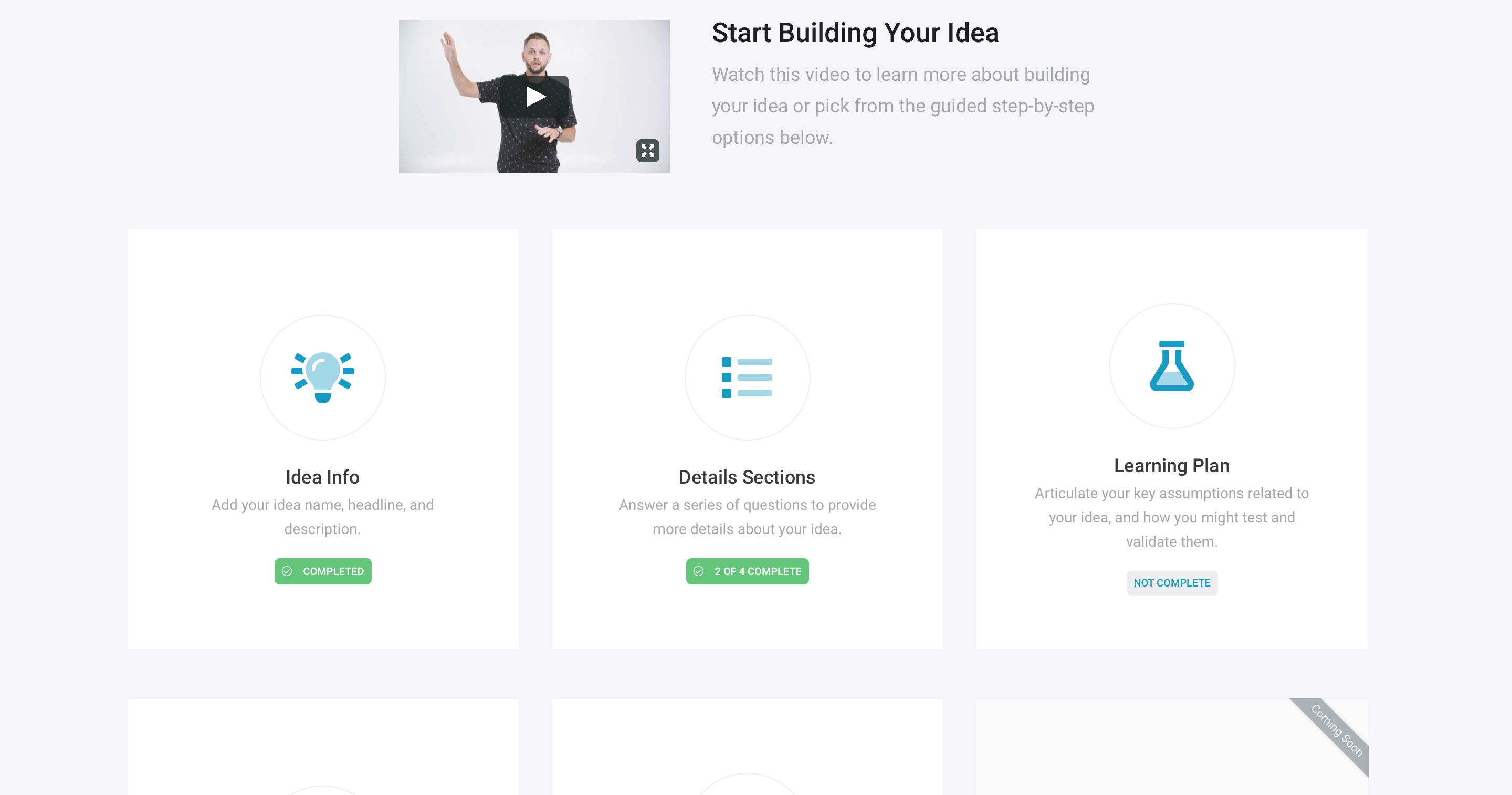 Idea Builder

A new way to build out your idea using a guided step by step experience

Includes examples and education throughout this process

Improved steps to create a campaign

Ability to frame a campaign

as a "Problem" or "Opportunity"
Includes examples and clear next steps instructions

Campaign Review Process

Simplified experience to both review and process newly submitted ideas

Stages

Ability for Ideas to be in to distinct stages as a "Concept" or "Project"

Idea Progress Updates / Statuses

New "Statuses" for ideas

Ability to mark an idea as "Ready for Evaluation"

Milestones

A new experience to define time-based milestones and tasks to complete during a milestone
Perspectives 2.0
Perspectives continues to evolve to be the place to explore your industry, your companies innovation program, and find where your company's interest overlap with your own. We believe perspectives could be an area that drives significant engagement to the rest of the platform. It will connect users to innovation forces that they're interested in. The Perspectives dashboard will be populated with dynamic and interesting content, push notifications to users about the latest content, and provide users ways to explore and engage.
Forces by Workspace

More robust organization content (files, links, media, etc)

Improved Force feed ordering (latest activity, popular, newest, etc)

Detail timeline User Interface for Forces

Discussion threads for Forces
Education and Training
As the software tool has developed and more users are logging onto the platform everyday, the need for in-tool training has increased. For many of our users, innovation is not their everyday job. They need to be inspired, motivated, and guided through the process. With this in mind, we have started to introduce
Video guides on several pages helping users better understand each action they're taking.

Tool tip popups for campaigns and ideas.
Notifications
Keeping users informed and engaged is critical to our success. Whether it's keeping you updated about the latest activity around an innovation force you're following, letting you know you have a new evaluation awaiting your scores, or keeping you updated on the progress of your idea. These are all areas where users need to be notified promptly, kept in the loop, and triggered to perform certain actions. We'll be pushing more notifications directly to users email inboxes. This is where most users will get their critical information and spend most of their time. In addition, notifications will be available in-app in the "Notifications" dropdown in the header.
Workflow Notifications

Forces Notifications

Evaluation Notifications
Additional Items
Improvements in how we display List View User Interfaces. We eliminated some inconsistencies and improve the display of list views.

Ability for workspace admins to manage users.

Areas where as the application has grown, there are needs to improve performance.

Reduce areas where we are too much data is being pulled in that could cause performance disruptions.

Optimization around database processing

Introduce stricter caching