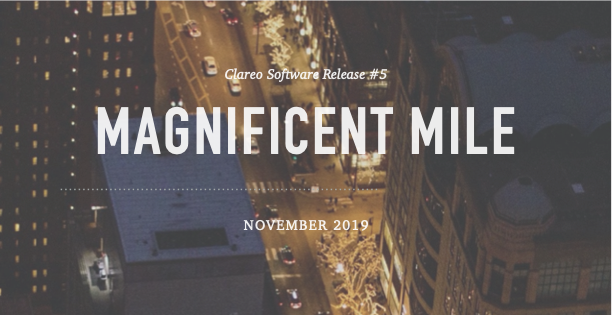 Features & Updates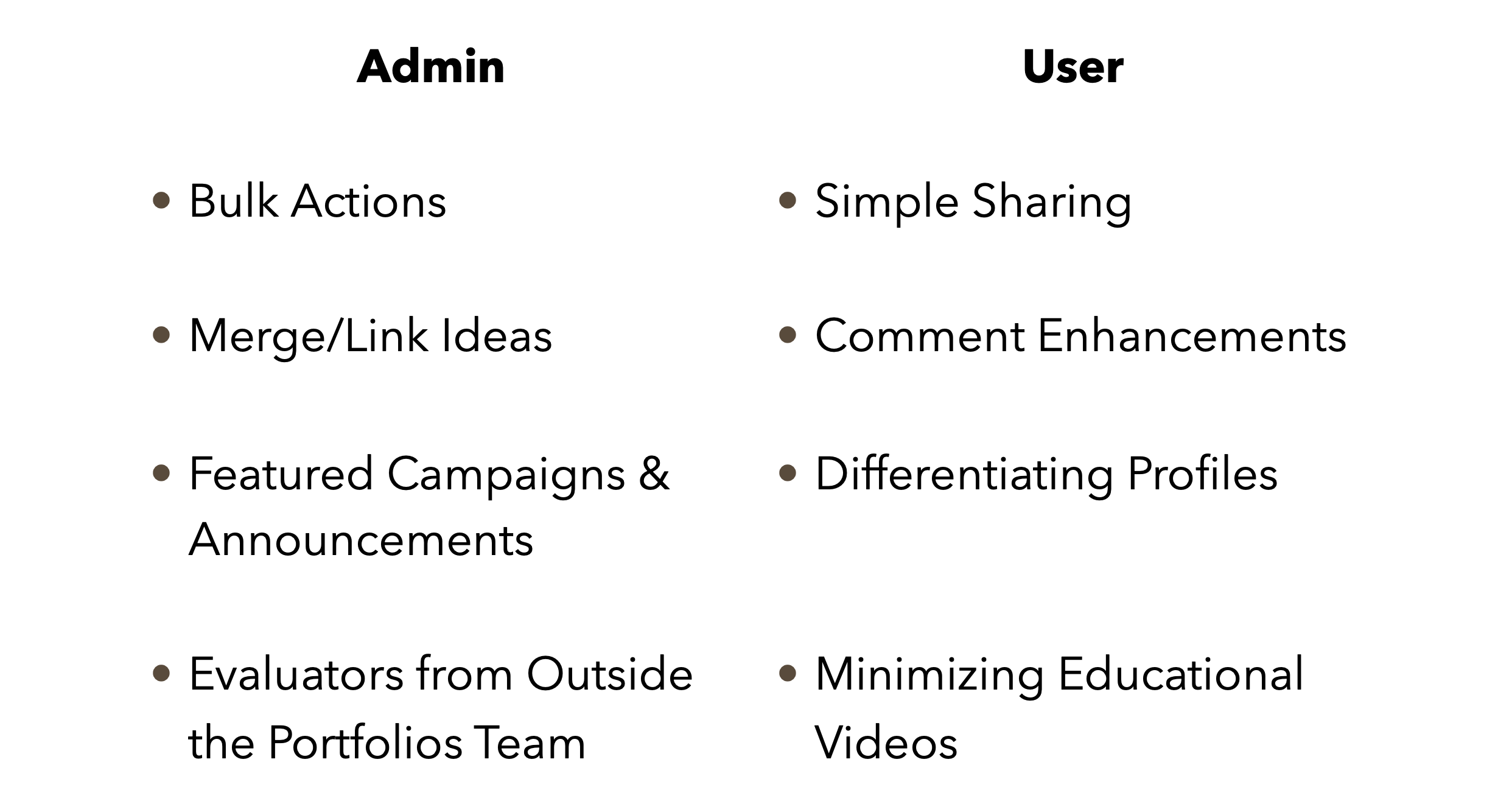 Admin Features & Updates
Bulk Actions
We work with big companies. Companies that have tens of thousands of employees, thousands of ideas, and many setting options. Previously the majority of our actions were performed one by one. You could only edit one idea at a time, delete one page, assign one user. This process can get cumbersome when you have a lot of content to manage. Therefore, we've introduced bulk actions as a way to manage content at scale. This will allow users to select multiple items and make bulk changes with one action.
• Added a common framework for bulk actions
• Apply bulk actions to numerous areas across the product
Merge / Link Ideas
A common request from clients is the ability to link or merge ideas. This request stems from a few different types of use cases:
• The need to eliminate duplicates
• The desire to cluster or combine similar ideas • The desire to relate ideas for reference
To address these, we've added a simple and easy way to merge/link ideas together. This will make managing a large number of ideas easier and provide the ability to show relationships between ideas.
Featured Campaigns & Announcements
We've added the ability to mark a campaign as "Featured" so that it ensures users across the platform or within a workspace will see a specific campaign on the dashboard. We've also added the ability to post a custom announcement message on your workspace or global dashboard.
Evaluators from Outside a Portfolio Team
Previously, you could only add evaluators to an evaluation if they are listed as a team member on the portfolio. This can cause confusion and frustration when creating a new evaluation or wanting to add a new user to an evaluation. We've improved the experience to allow for any user to be added to an evaluation regardless of whether they belong to a portfolio team. This will streamline the experience and make running evaluations more flexible.
Simple Sharing
We've added a share modal that allows users to share content either by copying the link or opening a pre-formatted email.
Comment Enhancements
In the Navy Pier release, we made major progress by introducing key workflows to ideas, but there was still room to improve collaboration throughout the process. Crucial to getting the innovation outcomes our clients are looking for is helping users collaborate more. One area that is ripe for improved collaboration is comments. In this Magnificent Mile release, we've taken comments to the next level. Comments now include @mentions which will encourage users to participate more, and trigger comment based notifications. This will increase collaboration and engagement across multiple key areas of the product.
Ability to @mention a user or use # for an idea

Ability to lightly format comments using bold, italic, lists, etc.

A new experience to help users frame their comments using

predefined comment styles (How Might We, Pros and Cons, etc.)

Notifications around commenting
Differentiating Profiles
Profile pages for campaigns and portfolios are the areas where we see the most user traffic across our application. They play a critical and central role in the product. Previously, there was not a significant visual difference between these profiles which caused confusion for users who cannot distinguish which type of content they are viewing. We've taken steps to make each of these profiles visually unique. Each profile will be more focused on the intended purpose and desired actions we are looking to inspire. This will greatly improve the overall user experience of these profiles.
Minimize Education Videos
We've added the ability for users to dismiss or minimize the education videos once a user has watched, or no longer wants to see the videos.
Magnificent Mile Fun Facts
1) The Magnificent Mile encompasses the 13-block stretch of North Michigan Avenue.
2) The oldest building on the Magnificent Mile is the Chicago Water Tower built in 1869.
3) The Chicago Water Tower was one of the lone survivors of the Chicago Great Fire in 1871, the building symbolizes Chicago's resilience.